7 in-class sessions. Once a week.
We accept payment installments through PayPal or ShopPay (if elligible).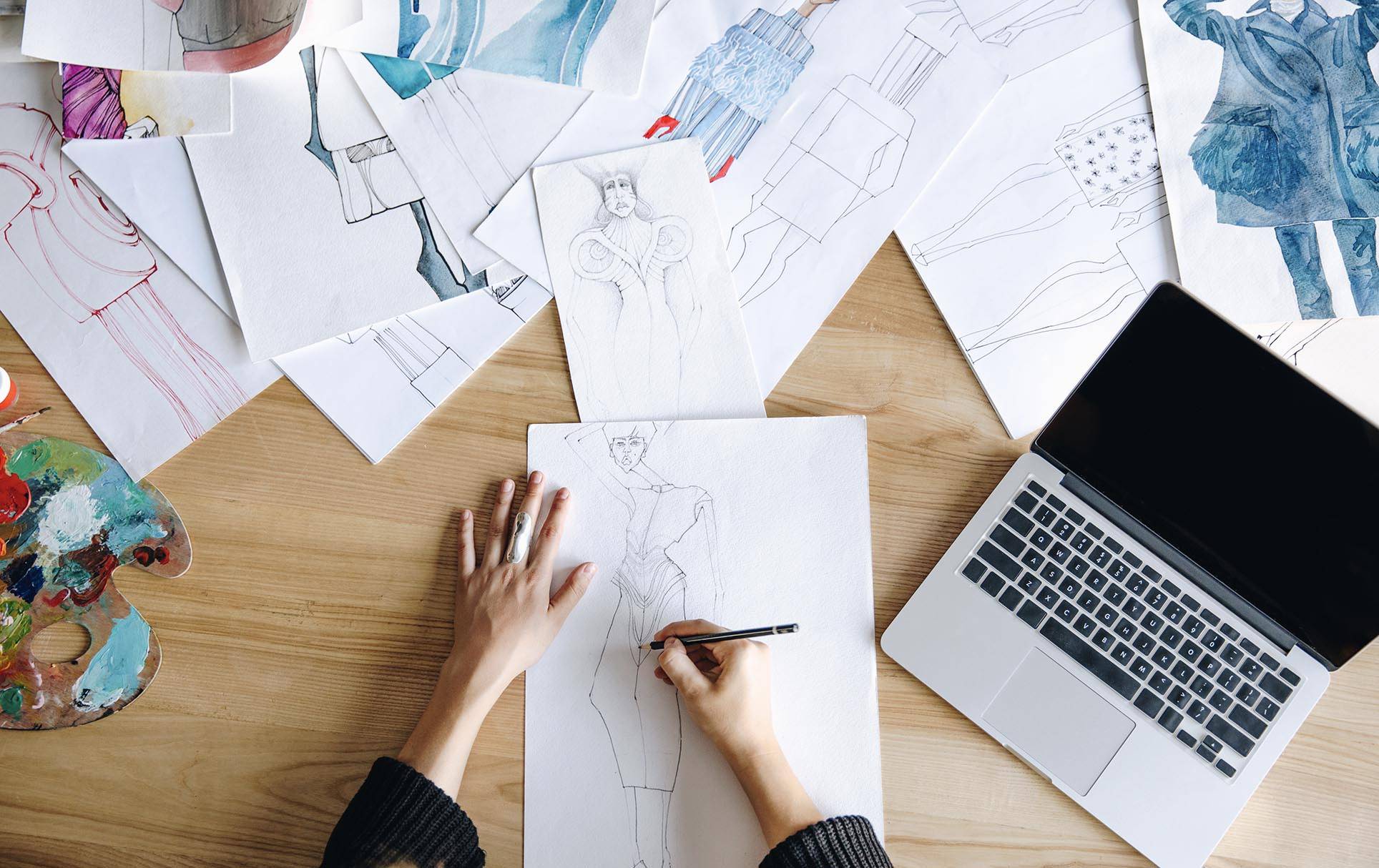 Fashion Illustration: Elevate your creative expression in this immersive 8-week course. Guided by industry professionals, participants will learn to sketch their imaginative styles, create elegant croquis and poses, and translate their ideas into stunning designs. From there, they'll seamlessly transform abstract concepts into tangible visuals, honing the skill of translating mental imagery onto paper. They will learn several fabric rendering techniques and how to apply those techniques to illustrate lace, denim, silk, twill, knits, shine, sheerness, etc.

Students will delve into the strategic aspects of fashion, comprehending the distinction of size ranges, price points, and the art of tailoring their creations to diverse customer profiles. The language of fashion will become second nature as participants familiarize themselves with industry terminology, unlocking a whole new level of design fluency. At the end of this course, participants will complete a beautiful collection of any garment category they choose. 
Certification of completion included.
List of materials for Fashion Illustration

 
- Notebook to take class notes and write down ideas.
- Pencils to sketch
- 11"x 14" marker paper pad– Bienfang 360
- 11 x 14 " tracing paper pad – Bienfang
- 1 white eraser, 1 sharpener, a 12 inches ruler or transparent ruler from pattern making
- A set of 24 or more color pencils- Prismacolor Soft Core
- A set of 24 or more colored Markers- Copic
- A set of 6 skin color markers- Copic
- A set of 3 Sketch Colorless Blender Marker- Copic
- Pigment Liner Bonus Sketch Set of 6 Liners-Staedtler
- Paper scissors
- Fashion and lifestyle magazines
 

Recommended book:

Fashion Illustration: Inpiration and Technique by Anna Kiper

 
Fashion Illustration  [FALL B 2023]
October- December 2023
Thursday from 10:30am-1:30pm. In the classroom
Oct- 12, 19,26th
Nov- 2, 9,16  30th
OFF Nov 23rd for Thanksgiving holiday.
Dec -7th
Terms: Students are responsible for buying all the materials and supplies for the course, including any mandatory textbooks. Make sure to read the "materials list" corresponding to this course or ask the school for one before paying for the course. Please obtain all of the requested supplies to ensure your ability to complete course assignments. The material list is updated every four months; course instructors can suggest extra supplies for the course not listed in the original material list.
Students need to be in class on time; instructors may deny entrance to class sessions if you are more than ten minutes late.
This course is seven (7) weeks and a total of 70 hours; if you miss ten (10) or more hours during the seven (7) weeks, you automatically fail the course and need to pay and retake it.
We take pride in our curriculum, and our students need to meet the school's expectations. The student is responsible for completing every class assignment; failure to do this will result in failing the course. When receiving a quiz, only a "B"/80 or more is a passing grade for our courses.
School staff may take pictures and videos for social media, and by attending this course, you agree to be pictured in any of those promotional materials.
Cancellation and refund policy: Space and schedules are limited at the Fashion Institute of Florida. Therefore, if students decide to cancel their registration for any reason within 15 days from their 1st day of class, they will pay a $100.00 cancellation fee. If students choose to cancel their registration for any reason within seven (7) days from their 1st day of class, they will pay a $200.00 cancellation fee. The course cost is not refundable after the 1st day of class. FIF reserves the right to cancel any class due to low enrollment and to postpone classes due to circumstances beyond the Fashion Institute of Florida's control. We make every effort to notify students of postponements and cancellations at least 48 hours before the first scheduled class. FIF may elect to postpone a course to receive additional registrations to meet minimum enrollment requirements. Refund and cancellation policies are strictly enforced.
Thanks for your business!
Fashion Institute of Florida
OTHER RECOMMENDED COURSES
Students will be introduced to the art of draping, the history of draping and when to choose the draping method over the flat method. During this course, students will learn about the different types of muslin and how to prepare your muslin blocks for draping. 
Students will be introduced to grading, understand the terminology and how to apply it. We will teach you the different ways to do grading and practice in class grading a basic skirt, pants, 2 darts bodice, torso bodice, sleeves, and more pieces. This course includes a grading reference guide.
Students are introduced to textiles, the terminology of fabrics and fibers, properties, construction, and finishes. In addition, we will discuss the difference between natural fibers versus manmade fibers and woven to knit fabrics. Students will put together a swatch kit.
BECOME A FASHION DESIGNER
A complete program designed for creative individuals that want to gain complete knowledge of the fashion industry.
DIPLOMA
FASHION APPAREL & DESIGN
WHAT OUR STUDENTS ARE SAYING ABOUT US:
"For years I have been dreaming about becoming a fashion designer but always found it to be unattainable. This school has changed that.
I leave every class so confident and excited about what I have learned and can't wait to come back. The schedule, class size, cost, and talent of the professors are almost too good to be true. But trust me, they are."
Taylor Dorry, Student  -  2 APR 2019
"Hello Fashionistas! I really like taking classes at The Fashion Institute of South Florida. After many years of looking around for a good, affordable and flexible fashion school in Miami, I'm lucky enough to have found this. I have been learning so much with the classes and the schedule is very convenient for me. $$ is super inexpensive but yet professional. I'm almost ready to enter to fashion world and launch my own clothing label! All thanks to The Fashion Institute of South Florida!"
Krysalee Reye, Student  - 15 SEP 2020
"I really enjoyed this course. It opened my thoughts and provided lots of new inspirational ideas. I always wanted to learn about fashion and what goes into garment production, so this course was exactly what I was looking for. The teachers are very friendly and they will help you with everything you need. Rucht was the best, she'll teach you everything she knows about fashion."
Juan Marcano, Marketer  - 04 JUL 2020