GABRIELA VILLALOBOS

@PINKCLOVERBOUTIQUE
I was born and raised in Caracas, Venezuela, based in Miami for 19 years. I have always passionate about design and fashion. Passionate about creating things with my own hands. I finally got the opportunity to get academic instruction on every aspect of the Fashion industry at The Fashion Institute of South Florida and also started creating and developing my own label: Pink Clover Boutique. My brand is inspired by motherhood, since I have a wonderful 5 year old girl who inspires me every day from whom I love creating beautiful European style dresses and sun protective swimwear (that's how everything started!), I am also inspired by our Caribbean culture and eternal summer. The objective of the brand is to dress girls and women with versatile, trendy and contemporary pieces that make them look and feel comfortable, elegant, unique and special on every occasion.
ALENA BONDAR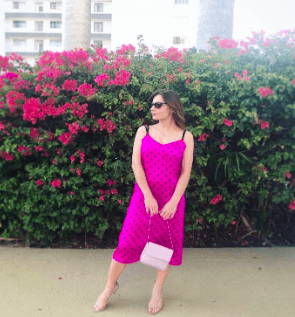 @AVCOLLECTION_OFFICIAL
This spring I've been participating at the sewing challenge and I made six garments for myself within nine weeks: four dresses, jumpsuit and shorts. At the same time I was a volunteer making some garments from recycled denim for the fashion show for underprivileged schoolgirls (AWOM Foundation). I created a "family look" for my friend and her two years old daughter as a birthday gift. I've got few clients who ordered custom made dresses. I'm working on sewing now, and the next couple of months already have scheduled. I improve my sewing skills through practicing and I'm planning to continue my education in fashion.
NATHALIE MOYA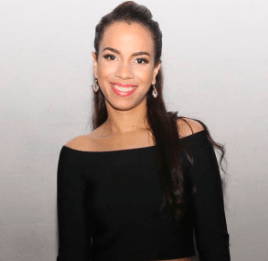 @NATHALIE.MOYA
My journey during and upon graduating from The Fashion Institute of Fl among the first graduates last November of 2018 has been an amazing and unforgettable experience. I'm reaching new heights in my fashion career. As I am currently working on to build my brand in women's wear I also work in many areas in the industry. For starters I have had an incredible opportunity to start teaching at Miami Dade College fashion design for kids/teens during summer camp. I get to use the skills I have learned at FISF and educate the students with an overall knowledge of the fashion industry. Students learn how to sew, cut patterns and sketch designs. I feel so proud to see my students complete their first sewing project at the end of each week. This past February 2019 I participated at NYFW Fashion Designers of Latin America exhibition with my collection "Tropical Forest". I also have an amazing network of people I've met being part of backstage team during fashion shows events in which I have maintain a solid reputation and great work ethic. Interacting with fashion stylist, photographers, and runway producers have expanded network. I feel blessed to be working among other fashion designers like Giannina Azar since November 2018 who dressed celebrities including Jlo, Thalia, Britney Spears and others. Right after my graduation I had the amazing opportunity to make a undergarment piece for one of Giannina Azar client latin public figure and TV host Chiqui Delgado for an Latin Award Show and also this past June at the MFW I had another opportunity to do the fittings for Francisca Lachapel TV host for Despierta America a morning latin show. I'm truly blessed for getting first hand experience with one of my favorite designers it is a great feeling! I am forever grateful for The Fashion Institute of South Fl to have put me on path in the fashion industry and to count with Ms. Rucht support. There are many projects to come that I'm working on, Stay tuned!