Fashion Week: An Escape from Reality
Posted by RUCHT MARIA DOLEO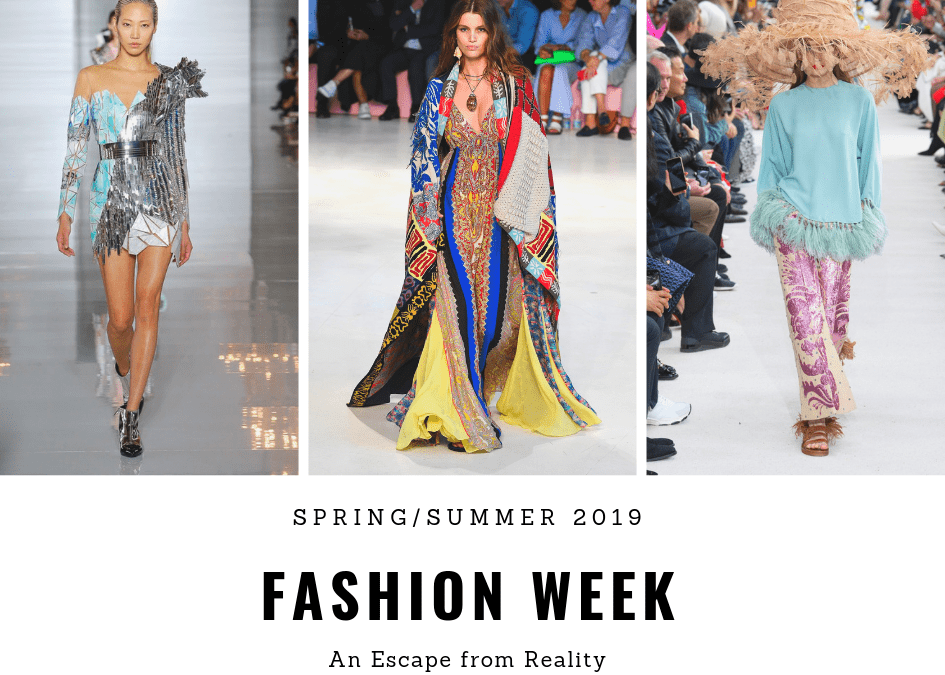 There was A LOT to digest during the Spring/Summer 2019 fashion shows. Anna Wintour pointed out, "Fashion is never truly about one thing, it's about many things." The shows covered a wide range of ideas including gender fluidity, the space age, fantasy, travel, romance, and even dystopian futures. However, the theme that bound all of these ideas together was escapism.
In many ways, fashion is about offering an escape from reality. The transformative power of clothing and beauty is unique. Every day you get to decide who you want to be by building your persona piece by piece. The opportunity to create your identity for the day is a fantasy only fashion can sell. As Ralph Lauren beautifully puts it, "I don't sell clothing, I sell dreams."
There was a tremendous amount of thought-provoking and down-right beautiful shows this season. Yet, there were certain artists whose visions simply took our breath away. Below, we'd like to highlight the shows and themes that had our imaginations running wild and truly had us escaping from reality.
If you'd like to escape from being confined within a gender box, then this is the time to live in. Designers have embraced the gender fluidity movement by showcasing their menswear and womenswear designs together (even putting some men in dresses). John Galliano designed his Spring 2019 collection for whoever feels like wearing it. In Ackerman's collection, there were plenty of boxy silhouettes, bold colors, tailored details, and pajama-inspired pieces. The result was effortless and chic. 
Demna Gvasalia, creative director of Balenciaga wanted to challenge himself in creating tailoring for today's generation. "How can they wear a suit—which they never do?" he explained. The solution he called "neo-tailoring"—fluid shirt-jackets with matching trousers, for men and women alike. "It's like a jogging suit, but it looks super-elegant in shape. There's no obligation to wear a shirt and tie because the jacket has become the shirt. Somehow," he said, laughing, "this is what I want to wear myself."Let it be known by Anna Wintour, "Everything is for everybody."
(Photos courtesy of Vogue)
Chanel and Victoria Etro found serenity at the beach. Karl Lagerfeld took us to the C-side by literally recreating a beach complete with sand and simulated ocean waves. The show was an uplifting mini spring break. You could almost forget you were sitting in the middle of the Paris Grand Palais. Lagerfeld brought back Parisian chic with lady-like suits Coco Chanel invented to boost female social confidence. The far right image is the ultimate in beach-to-dinner chic: a two-tone maillot, loose jeans, and tons of logo jewelry. However, between the ladylike suits, lace pants, and swimwear, we couldn't help but fall in love with Kai Gerber's look.
(Photos courtesy of Vogue)
Etro took on an eclectic boho vibe where color and pattern reigned supreme (as did actual surf champions who walked the runway).  The runway was filled with happy, easy-to-wear vibes and women with natural smiles clad in "accidentally" pretty print outfits. They turned surfer and skateboard motifs quite chic having us longing for endless summers. They had us swooning from the first look, a multi-pattern patchwork blanket thrown over the shoulders of a girl wearing a full-length paisley-print dress.
(Photos courtesy of Vogue)
Some designers looked ahead to the future, creating looks that were out of this world. Nicolas Ghesquière, creative director of Luis Vuitton,  took us back to the future with retro-sci-fi looks reminiscent of the 80's with exaggerated silhouettes and retro prints.
(Photos courtesy of Vogue)
Every look that came out of the Balmain S/S 19 collection made an impact thanks to the creativity of Olivier Rousteing. Mixing past and future together, he combined Egyptian motifs (mummified organza dresses) with futuristic metallic details. The result was out of this world.  After all, didn't aliens build the pyramids?
(Photos courtesy of Vogue)
Many think of dressing romantically as wearing lots of frills and a confection of airy tulle. Yes, it is lovely to dress feminine, but I like to think of romance as putting on something that reminds me of a certain place.  There is nothing more romantic than falling in love with your environment (especially in great company). There were certain designers that captured this essence of romance through travel. Piccioli's collection had us especially transported with his myriad of shapes followed by joyful patterns, feathers, sequins and all kinds of dreamy details. This show was one of the few that had a standing ovation and for a good reason. Sarah Mower said it best, "Valentino tonight was just utterly, lusciously all-around gorgeous."
(Photos courtesy of Vogue)
Which was your favorite show this season? Let us know with your comments below!