FAVORITE TRENDS FROM NYFW Spring 2018
Posted by RUCHT MARIA DOLEO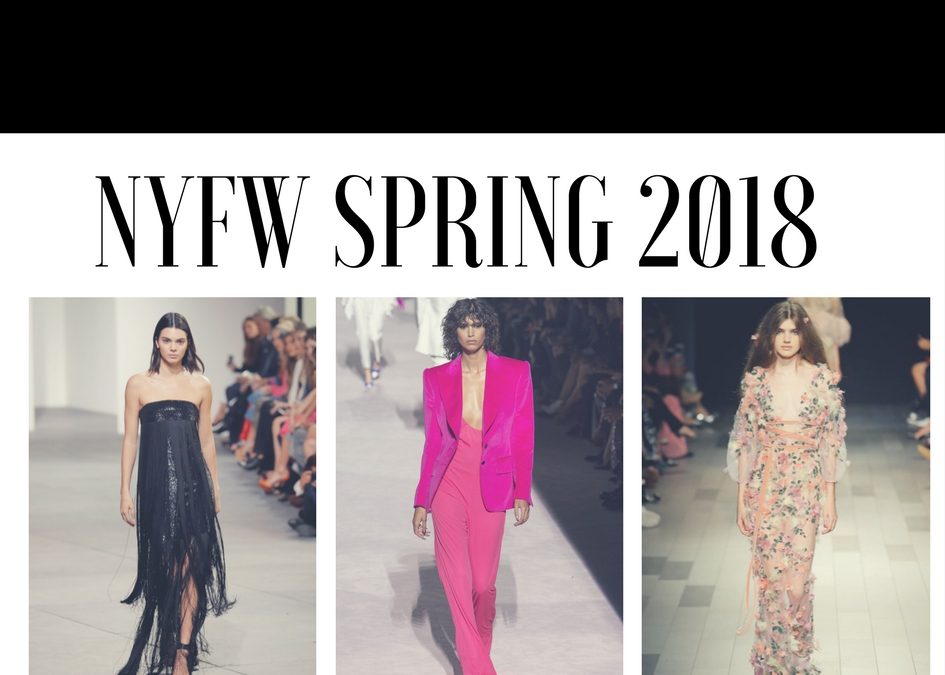 New York Fashion Week commences the beginning of Fashion Month followed by other fashion capitals of the world such as London, Milan, and Paris. It plays a major role in predicting and setting what will be in vogue for the upcoming year.
We see some seriously flattering looks as New York Fashion Week puts a telescope on what's to come for Spring 2018. There were so many looks to love, it was difficult to edit them down. However, for brevity's sake here are a few of the top five trends to look forward to and how to make them work.
ALL WHITE EVERYTHING:
Photos: Getty Images
Monochromatic white is a natural fit for the summer. Not only is it practical (especially for dealing with the unforgiving Miami sun) it is simply elegant. Whether you are sporting athleisure or a suit, a head to toe white outfit has the magical power of feeling effortless while looking chic all at once. You are walking breath of fresh air. Just try not to spill any wine or food on yourself.
From left: Michael Kors, Zimmerman, Fenty X Puma by Rihanna
LILAC AND LAVENDER:
Photos: Getty Images
Meet millennial pink's less basic cousin, lavender. This season's runway color palette is bright and full of soft pastels, bringing about the freshness that is Spring.
From left: Tobi, Pamella Roland, Roland Mouret.
SUITING:
Photos: Getty Images
This season was full of beautifully tailored suits ranging from nearly all shades of the rainbow. Come Spring 2018, women will wear the pants. Channel your inner Annie Hall and combine your seat with a pair of sleek sneakers for a low-key cool look, or heels to transition into the night.
From left: Tom Ford, Gabriela Hearst, Vivienne Hu
TRANSPARENCY:
Photos: Getty Images
Gossamer fabrics delicately draped the runway for a wispy and airy spring. Depending on how you do transparency, the effect can range from romantic and angelic to sultry. If you are not quite ready to free the nipple yet, pair a transparent top with a lacey bralette for a pop of interest.
From left: Alexander Wang, Marc Jacobs, Jonathan Simki
TRANSITIONAL SWIMWEAR:
Photos: Getty Images
There is nothing more Miami than a transitional swim look that will take you from the beach to the shore. It seems like every designer this season has their swimwear perspective. What would be yours? Take a dip in our Swimwear Class  to unlock your own swimwear vision.
From left: Michael Kors, Tom Ford, Oscar de la Renta