STUDENT SPOTLIGHT: NICOLE CHIRINO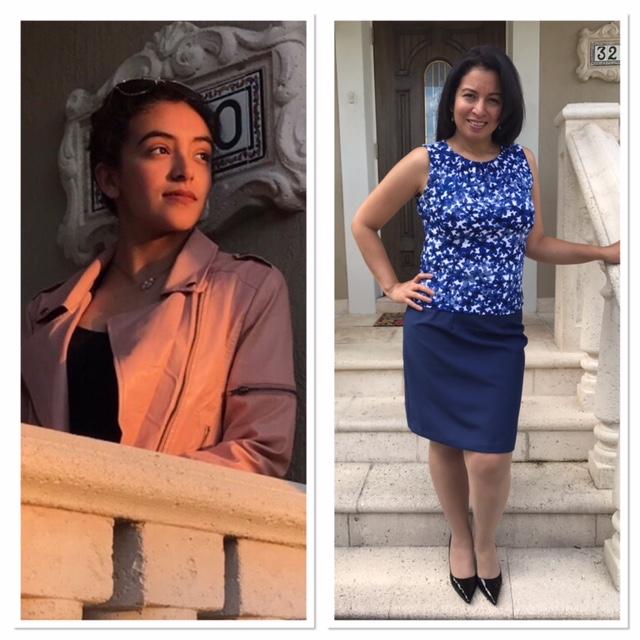 We are very happy to introduce our talented student, Nicole Chirino. She has been taking classes in our fashion program since January 2017. During our interview with Nicole, she explains what inspired her to pursue fashion as a career. Learn more about this burgeoning young designer in our interview with her below.
How long have you been a design student and what got you interested in fashion as a career?
I have been a design student for 8 months now. I was very young when I decided I wanted to be a fashion designer. My mom says I decided to be a fashion designer when I was around 4 or 5 years old, inspired by the Barbie's I used to play with.
What inspired you to make this beautiful skirt for your mother? How does your mother's style influence your design?
The dream of having my mom wearing something I made, because of all the sacrifices she's made for me to get here, inspired me to make her this skirt. My mother's style is simple yet classy. For work, she wears skirts and dresses. However, I have noticed that none of her skirts show the darts. To make the skirt different, I made it using all the darts and not covering them with another piece of fabric. With the darts, including the color, the garment looks more elegant and unique considering skirts nowadays are plain in the back and front, excluding whether the fabric is a pattern or a solid color. I want to be able to remind people of exciting yet simple times. For one to feel comfortable and content when wearing my designs. Similar to my mother, wearing the attire caused others to wait for more designs, that is what keeps me going and inspires me to improve.
How has The Fashion Institute impacted you as a student and designer?
It has made me realize that Fashion Design is the career I want to study. My goal is to design for anyone and everyone. The clientele waiting and eager for more. Comfortable, elegant, different, and gracious are just a few of the styles I hope to design. As I grow older different prints, colors, magazines inspire me to create various types of styles to sell for all types of events. I have had many great opportunities such as attending fashion shows and seeing what goes on backstage. Every now and then while I'm watching TV I get ideas of outfits and draw them out before I forget.When I go shopping, I find myself looking at the stitches on shirts, dresses, coat; when I see flared skirts, I imagine what the pattern looks like. To have the knowledge and being able to use it is incredible. It feels amazing to have the sense of knowledge on how to make clothes, patternmaking, and fashion shows. Now I'm learning textiles along with fashion design and I can't wait to see what these two classes bring for me.
What are your plans after you finish your studies at the Fashion Institute?
My plans after I finish my studies at the Fashion Institute are to keep on practicing the skills I have gained. Once I finish high school, I plan to go off to college and to have had made clothes for all my loved ones, more than once. I want to start a small business, whether it is only making clothes for my family, but as word gets around I'd like more and more people to want and admire my designs for their uniqueness.
What advice do you have for students studying fashion design?
My advice for students studying fashion design is to really put in all your love and effort. You may find yourself giving up your weekends or making many sacrifices but the outcome and the feelings are unforgettable. Time, patience, dedication, and love are all very important. Don't be afraid to dream or draw out your designs.