STUDENT SPOTLIGHT: NATHALIE MOYA
Posted by RUCHT MARIA DOLEO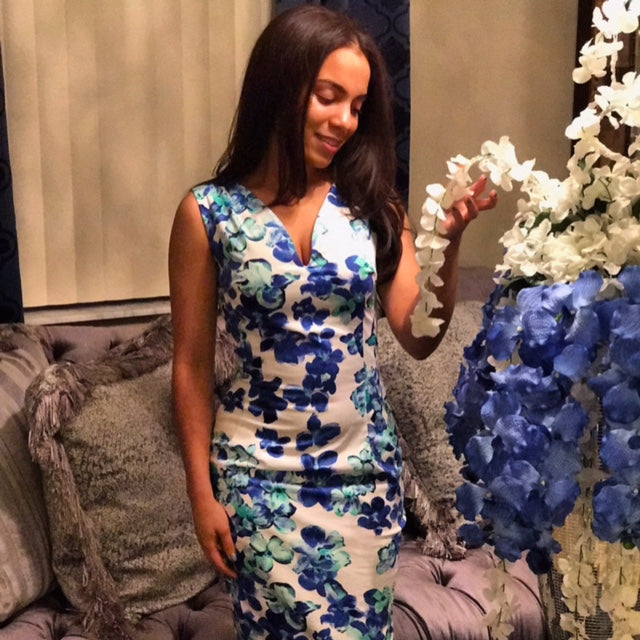 STUDENT SPOTLIGHT: NATHALIE MOYA
Nathalie has been a student at the Fashion Institute of South Florida since May 2017. She told us how a hobby turned into a passion for the fashion industry. Read on to learn to learn more about her story and advice to fashion students on how to stay dedicated.
HOW LONG HAVE YOU BEEN A DESIGN STUDENT AND WHAT GOT YOU INTERESTED IN FASHION AS A CAREER?

I've been a student at the Fashion Institute of South Florida since May 2017. My story is very interesting as to how I got into the fashion world. First, it started when I received a sewing machine as a gift for Christmas back in 2014. I always liked fashion but I never imagined that I would have the patience and ability to operate a sewing machine, but I love challenges and what would be better than sewing. I then started buying patterns from the fabric store and teaching myself about pattern making and sewing. Also, I searched on Youtube for tutorial videos about making dresses and blouses. At that point, I began to get more and more interested in making my own clothes. The first design I made was a royal blue dress. When I wore it, I received many compliments which made me feel good. That was my turning point as to how I became interested in fashion as a career.

WHAT INSPIRED YOU TO MAKE THIS GORGEOUS DRESS FOR YOURSELF AND HOW YOU DID THE PATTERN?

Going to the fabric store and seeing different kinds of fabric prints and textures inspires me to make my next design. The fabric I used for this dress really spoke to my creative side. Seeing that orchid print and color inspired me to name the dress "The Orchid Blossom Dress." I decided to make this dress simple but sexy by adding a low Sweetheart neckline, so it was simple to create the pattern and make the dress.

 HOW HAS THE FASHION INSTITUTE OF SOUTH FLORIDA IMPACTED YOU AS A STUDENT AND DESIGNER?

It has impacted me tremendously. Not only do I have the privilege to have outstanding teachers who push me to the next level to succeed, I also had the opportunity to attend Miami Fashion Week and Miami Swimwear Week and volunteer backstage while interacting with designers, photographers, and stylists. Those experiences showed me that the behind the scenes backstage area is a totally different environment. All models must have hair and makeup done and all garments must be assigned to a particular model, helping them change their garments as the time gets closer for the fashion show to begin. Also, watching the designers do their last-minute preparations made me realize that this is not just what you see on the runway, it is what is behind the scenes that make the difference for a fashion show to be a success. I have met a lot of people in within the fashion industry and it has tremendously opened my network circle.

WHAT ARE YOUR PLANS AFTER YOU FINISH YOUR STUDIES?

My plans are to launch my first collection as an emerging fashion designer. It is something that I greatly desire, and eventually, have the clientele that would love to wear my designs. I also want to continue gaining more experience and sharpening my skills to learn more about the fashion industry. Fashion is a really fast-paced industry. You must constantly be reinventing your designs in order to be consistent in the fashion world.

WHAT ADVICE DO YOU HAVE FOR STUDENTS STUDYING FASHION DESIGN?

If you truly want to become a fashion designer, don't look at the glamorous lifestyle as a reward. Let your accomplishments be your reward and be willing to work hard and go the extra mile to be the best. Attend fashion shows and volunteer backstage as well as seminars and other events. This will help you expand your network and knowledge to succeed as a fashion designer.