Couture Fashion Vs. Fast Fashion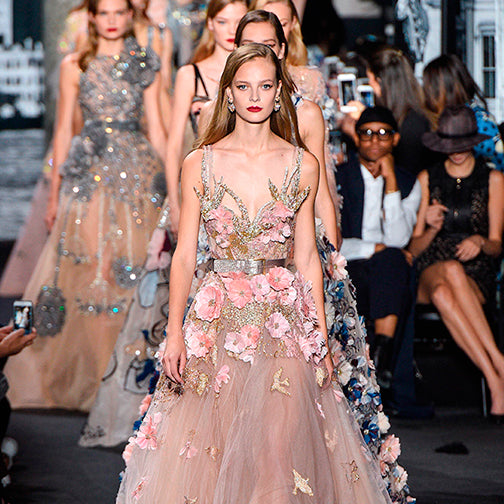 Couture Fashion vs. 
Fast Fashion  
Haute Couture
Haute Couture is the art of creating exclusive custom-fitted clothing. The outfit is constructed and sewn by hand from the start of it to the end. Couture garments are made from very high quality and expensive unusual fabric. The process starts with the designer drawing the style on paper from their inspiration. Then their meet with the master tailor or dressmaker and go over all the details with them. The dressmaker pays special attention to every detail when making it, applying the best sewing techniques in the process of making and finishing it. However, the process is time-consuming and costly because it uses hand-executed techniques.
Before making Haute Couture dresses, the sewer has to take accurate measurements of the wearer and the body stance. Haute Couture is a French word that means high quality, high-class dressmaking and sewing to prepare a very high-class dress. The name is a French phrase where Couture means dressmaking, sewing, or needle works while House means elegant or high class. The two words put together mean an elegant dress made in very specialized sewing.
Fast Fashion
Fast fashion can be defined as trendy clothing cheaply made from a collection of ideas from the fashion celebrity culture. They have soon turned into garments that trend in high street stores created to meet the consumer demands. The wearers of the fashion clothes compete to wear the newest design and style in the market as fast as possible. 
Some of them are grabbed by the wearers very fast before they begin trending, and soon after, they discard them. The notion of fast fashion is that you have to strive and get the latest in the market and pull the latest looks even before they happen. It also goes with the belief that outfit repeating is outside the fashion scope.
There are very distinctive features of fast fashion versus Haute Couture fashion. Just take a look at some of the notable differences between the two to help you decide which of them is best for you.
Haute Couture
High-end garments that are highly valued and manufactured with a lot of careful applications of skill and measurements for specified individuals

The garment is made for a specific person with specified d measurements and designs, and just no one wears it because it is meant for special occasions.

Less wasteful and are manufactured selectively on order, and specifications and they last for long, meaning that more materials are preserved than during the fast-fashion production.

They are considered clothing for only special occasions and events, and they are never discarded, but they are timeless clothing.

Made by well-known designer brands and excellent quality and people who dedicate a lot of their time to make sure they bring out the highest quality clothing

Produced using very high skills and not many people can make these kinds of clothing.
Fast Fashion
Fast fashion is about cheap garments manufactured in bulk in factories and not worn for many days.

Manufactured in bulk and most cases not made with any specific person in mind

Fast fashion is controversial because it produces most selections, but it is also full of waste.

Commonly referred to as trendy clothing resembling high-end designers but not.

Consumes cheap labor
 To learn more about making your own designs, enroll in any of our Short Fashion Courses here