Student Spotlight: Sophia Fiorella
Posted by RUCHT DOLEO-SCHWARTZ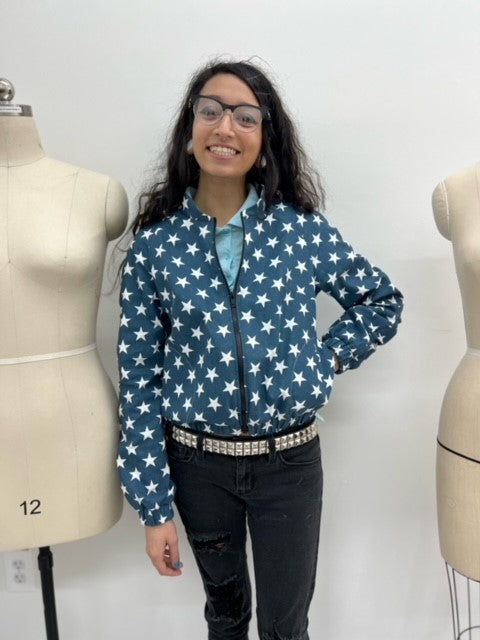 We are so proud to introduce our talented student, Sophia Fiorella as student of the month for February 2022. Learn more about this inspiring young designer below.
How long have you been a design student and what got you interested in fashion as a career?
I started with Sewing for Beginners in May 2021 and began the design program in August.
I have a bachelor's in Studio Art specializing in painting and in 2020 was ready to go back to school. When I didn't get into any Master's programs for painting, I thought maybe it was time for a new medium. To be honest, deciding to have a career in fashion was something I felt would always just be a dream. As a child I would always say I was going to be a fashion designer which I guess evolved into me making art because most of my paintings and drawings are heavily fashion inspired (models, outfitting, etc.)
How are your classes helping you in the process of preparing personal projects?
So much! I find that now that I'm in Pattern Making and Garment Construction 3, I'm wanting to alter all of my clothes. I have this drawer full of clothes that I don't particularly enjoy how they fit but the fabric prints are really nice so I kept them. Now that I understand how to alter patterns and how different darts/dart equivalents structure clothes, I've pulled most of the garments out from the drawer and made sketches of how I'd like to alter them!
What are your plans after you finish your studies at the Fashion Institute of South Florida?
I plan on having a clear idea of my brand by that time. I want to be actively produce clothing using textiles printed with my own original drawings.
What advice do you have for students already studying or wanting to study fashion design?
The hardest step is starting and sticking to it. Don't be lazy! It's really easy to want to quit when you're learning how to sew because it's not perfect at first. But I promise the more you do it, it just starts to click and you want to get better. For me, going to school to learn is the easiest way because I'm being structured and getting an honest critique so I can progress.