FAUX FUR VEST TUTORIAL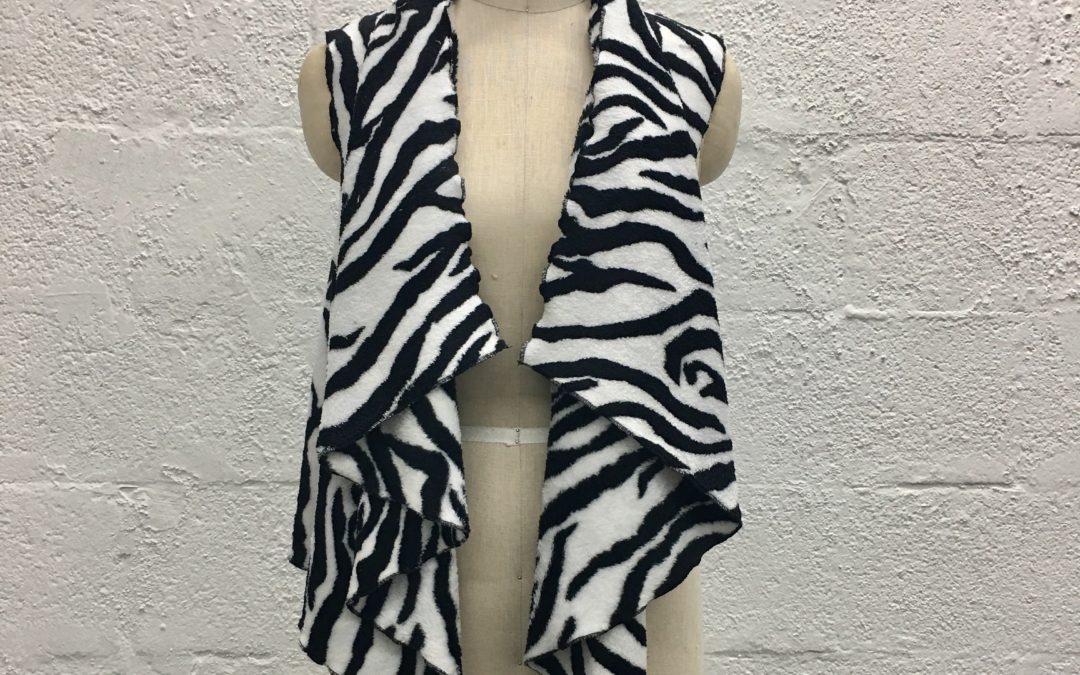 Faux fur vests are a trending item this season and are perfect to throw on for a holiday party. They are effortless, sophisticated and surprisingly easy to sew.
If you are a beginner, a short-haired fabric is easier to sew together rather than some of the longer haired style fabrics for a few reasons. They drape better, are lightweight, and can be reversible. Follow this simple step-by-step tutorial to get the look in under two hours!
Materials:
1 yard of double face faux fur of 60″ or wider (Here we used Sew Lush Fabric from Joann. At the end, we will show you other print options).
 3 threads to match the color of the fabric (If you are using a serger machine.)
1 vest pattern. One size fits most order here.
An overlock/serger or home sewing machine with a narrow zig-zag stitch setting.Follow along on our Youtube video.
Step 1: Place the pattern on the right side of the fabric making sure the center back is on the fold of the fabric. You can use weights to hold down the pattern for stability when cutting.
Step 2: Cut along the pattern all around very carefully.
It should look something like this.

Step 4: Cut a notch on the center back neckline on the fold line.
*Always take a piece of fabric to practice on first before continuing with your project.
*If you don't have a serger, use a zig-zag stitch on your home sewing machine to finish the edges, then sew.
Step 5: Time to sew! First, join the collar seams together.
Step 6: Next, join the shoulder seams together.
Step 7: Attach the collar to the neckline. Match the notch you made earlier on the neckline to the center back neckline and match with the seam of the collar, as shown.
Final Step: Almost done! Clean up all the edges with a serger in a narrow stitch setting or baby merrow stitch. Alternatively, you can finish the edges with a zig-zag stitch on your home sewing machine.

*When doing a circular shape like an armhole, start on the shoulder tip to use as a visual guide for starting and ending.
*Here are some examples of different options to finish an edge.
Pictured from left to right: Zig-zag stitch, baby merrow (small serger stitch), larger serger stitch.
Finito! Now run to that party and brag about your immense talent. 😉
Other faux fur fabric ideas:
Don't forget to post your pictures on Instagram and tag @thefashioninstituteofsfl!