FIELD TRIP TO THE GARMENT FACTORY!
Posted by RUCHT MARIA DOLEO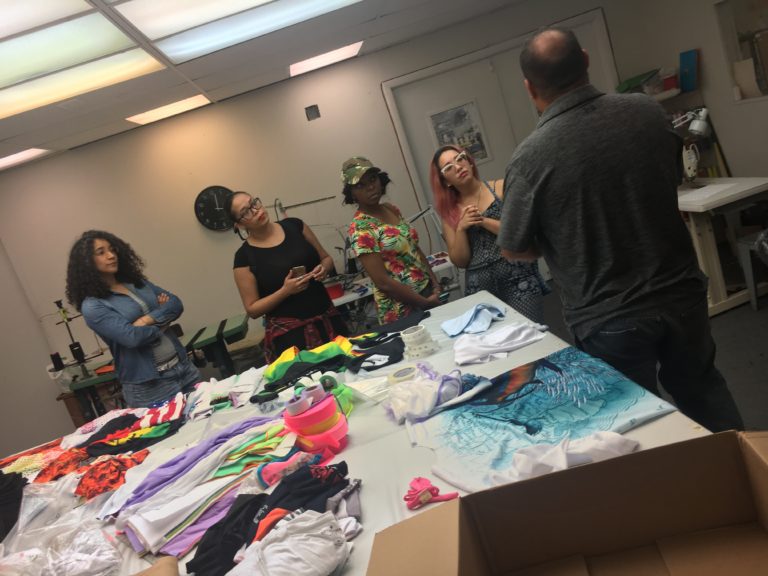 Taking fashion students on a field trip to the garment factory is like taking kids to Disneyland!!
We met at 10.30am at the first factory in West Hialeah, a factory that has a full line of services, from sample making to small productions. There, the students asked questions, watched several machines working, interacted with the seamstresses, touched the fabrics and trims, and more importantly, learned closer the production process.
Feedback from our students:
This field trip was a complete eye opener for me. I had no idea there were clothing factories right here in our city. The factories we went to can do just about anything you ask for. From bathing suits, sportswear, uniforms, printing your own fabric, and the list goes on. After seeing these factories the possibilities are endless in the designs you want to create. – Luis Reyes

I am very grateful for the experience and opportunity to have gone to the local manufacturers in my community. It is difficult to find an affordable and reliable manufacturer when you don't know where to look or what is available locally. Ms.Rucht was so kind to set up this field trip for us to expose us to our options for these services according to our budgets as startup designers. I support small businesses and the local economy and prefer to manufacture within my community. I am opposed to outsourcing abroad where there are unethical practices of manufacturing and exploitation of its workers. My brand is for a conscious consumer that supports "Made in the USA." As for me, it's important to have as much control as possible in overseeing operations of my designs. I like being close enough to be there and make corrections if necessary and avoid multiple international shipping costs that can be expensive and increase overhead costs. I'm very excited and look forward to working with these manufacturers; this was the solution to my problem. I will no longer need to make everything by hand myself and I will be able to grow my business at a larger scale. Thank you for everything Ms.Rucht. – Joann Chan

When my professor told us we were going on a field trip, I immediately knew that this trip would fit perfectly on my clothing line journey. We first started at a factory that had amazing heavy duty sewing machines, and every seamstress has an assignment to accomplish. This was a big eye-opener to the world of manufacturing. We later visited a cutting warehouse, the incredible machines were able to cut layers of fabric and samples. My favorite warehouse was one that had a lot of different sewing machines that made a lot of beautiful and intricate trims and the best part was the sublimation YES! You can have your own print made on anything!! I can't wait to see what the future holds. Thank you Fashion Institute of South Florida for introducing me to the world of fashion manufacturing. – Sylvia H