Student Spotlight: Camila Scott
Posted by RUCHT MARIA DOLEO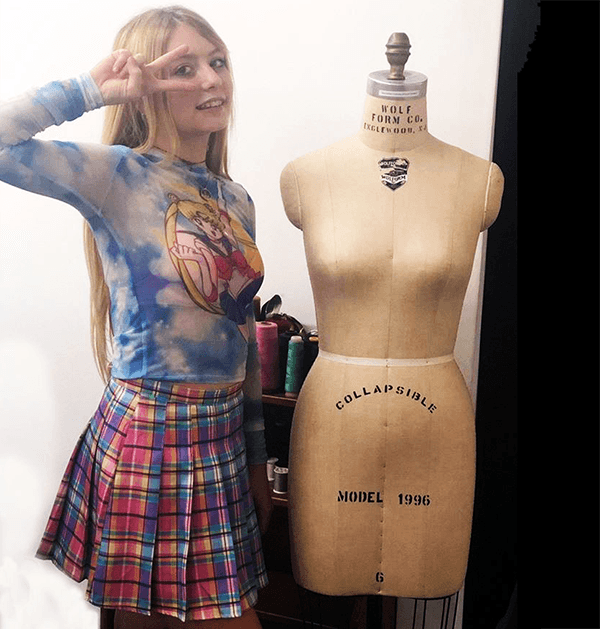 At the age of 12 years old, Camila Scott is putting us all to shame. Besides completing her normal studies in middle school,  Camila attends the Fashion Institute of South Florida where she is completing the intensive Fashion Program and plans on graduating this upcoming September.  Her peers' ages range from the 20's to 40's (even 50's) and she has no problem keeping up the pace. In fact, she is just getting started.
 Some may say she is a prodigy and has a natural artistic ability since she comes from a family of artists. At the end of the day, Camila is always creating and is sure to have something crazy and funky up her sleeve. She dresses as colorful and unique as her personality too. On the day of our interview, she came in wearing a Sailor Moon long sleeve paired with a technicolored pleated skirt and a pair of her signature platform shoes, fit for any anime school girl (never shorter than 3 inches). What charmed us the most about this young talent is that she possesses the ingenuity, boldness, and fearlessness to try new things. A quality that we tend to forget as we grow up. Camila reminds us that we should never lose that inventive spark.
Read our interview to learn her story, what got her interested in fashion at a young age, and her approach to creativity. Also, catch some of the projects that Camila has worked on at our school. 😉
What got you interested in pursuing fashion at such a young age?
My grandma taught me from a young age to start working on my doll's clothes. And my dad would always take me to his factory because he fixed boats. I really loved how they created stuff out of nothing really. So that got me interested.
Practicing on dolls is perfect! So before taking classes here, you were already a little familiar with sewing.
Yes! And from a young age I would always start designing
Since joining the Fashion Institute of South Florida, what is your proudest accomplishment?
Designing my collection. I can't wait to finish it entirely!
What is your collection based off of? 
Well, one is based on the new plaid trend, and the other one is a more sophisticated look of plaid and cashmere together. So, imagine a gorgeous girl standing in New York with a street style that everyone looks forward to.
Who or what inspires you?
Something that inspires me the most is Dolce and Gabbana and Alexander Mcqueen. He changed the course fashion in most ways with his innovation.
I see you already have a natural ability with sketching! Does being an artist help you craft your designs more easily?
I think so. It gives you an easier way to sketch and visualize what you have in your mind and put it to paper. It gives you more of an idea of what you want to make and how it would actually look in real life.
Would you say you have better attention to detail because of it?
Yes, probably. Also, we have the greatest teachers here at this school. They taught me how to pay attention to details.
How have your classes helped you in the process of creating your funky pieces?
It's helped me with the detailing and visualizing. Also, how to put pieces together, and sew and construct the patterns. It made me appreciate the process of what it takes to put a garment together.
What are your plans after you finish your studies at the Fashion Institute of South Florida? You're so young and have your whole life ahead of you.
Well, first finish regular school (I'm in 7th grade). After I finish Middle School I want to go to DASH (Design and Architecture Senior High), and hopefully win their fashion show. After DASH, I want to go to either Parsons or London College of Fashion, and hopefully get an internship with one of the designers.
What advice do you have for students studying fashion design?
To be creative and be confident with your own style. The internet is a great way to express yourself and show new ideas.
In other words,
 don't be afraid to be creative and crazy.
No, not at all! Today, fashion is so modern and unique, especially with all the technology available. You could really outshine the whole world!
As you can see, 
it is never too early or too late to pursue a career in the fashion industry.
Inspired by this story? Schedule an appointment to visit our school or sign up for one of our Short Fashion Courses.