Student Spotlight: Nicola Grayling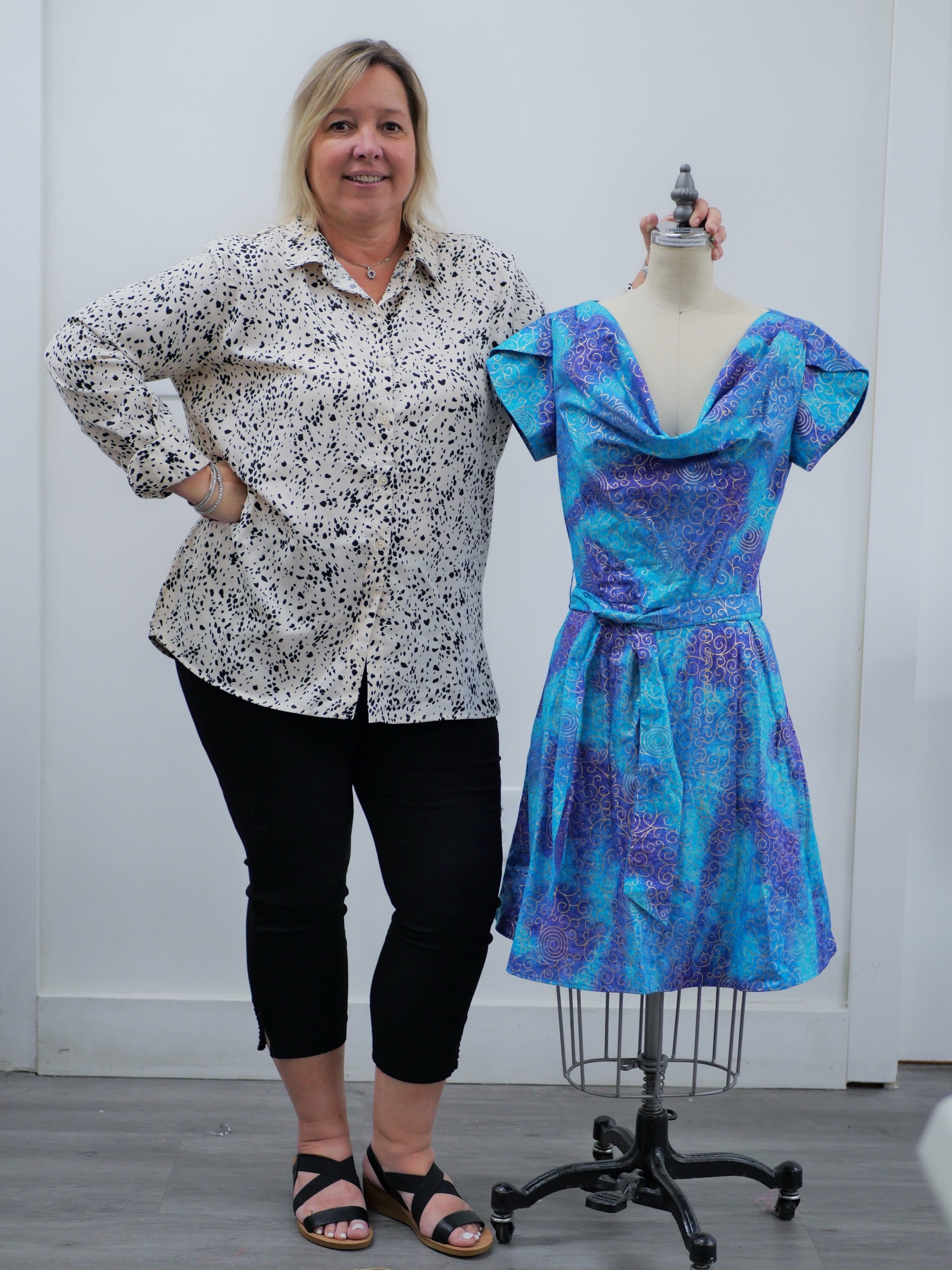 Meet Nicola, our Student of the Month for April 2023. She has been determined to grow her knowledge from day one and has been committed ever since! Read more about her and her journey through fashion below...
How long have you been a design student and what got you interested in fashion as a career?
I have been with the school since August 2022. I had always been interested in sewing, design and pattern cutting. I grew up sewing with my mum and did a textiles class  in high school in UK; which I loved, but it was a more general class to give you an understanding... and at that time I never wanted to go onto college to study, so I went out to work, but continued to make my own clothes, curtains, and painting canvases for our homes. 
When I came to America I gave up sewing and had my kids but I always knew at some point I would come back to it. I stumbled across the school on IG when I decided I wanted to get back to creating again and with my kids now getting ready to go to college I would have more times to concentrate on learning - it was a great time to get back to it. 
How are your classes helping you in the process of preparing personal projects?
The classes I have taken so far have been fantastic. I started out with Sewing for Beginners even though I knew how to sew  I had to start there in order to get on the Garment Construction courses I wanted to do. The instructor and the course was excellent -going in I thought I wouldn't learn much - but how wrong I was, I have learned so much and it really set me up in a great position to start Garment Construction which I'm now in level 4. Late last year I tried the Children's Wear course - that was also a great class. Fast forward to this year and I'm now in Pattern Making 3&4. I have also signed up for How to Make Bathing Suits. 
 I started out wanting to learn how to finish my pieces with a more professional look and I also wanted learn pattern making so I could make my own capsule wardrobe that fits me correctly. But the classes and teachers here  have given me so much more to think about. 
What are your plans after you finish your studies at the Fashion Institute of Florida?
For right now I want to make my own items. I didn't embark on this to be in the fashion business - although I have been asked by people who know I am doing the courses if I would make items for them. 
What advice do you have for students already studying or wanting to study fashion design?
My advice would be: just do it! I wish now I had done it in my 20's and tried to make a career of it. It's never too late to try so if you are older, give it a go. I love the courses at the school, it's so interesting seeing how the patterns come together. I feel completely at home at my school!