A blog post written by fashion student, Gianna Pignatello - Explore Fabric Stores in Miami
Posted by RUCHT DOLEO-SCHWARTZ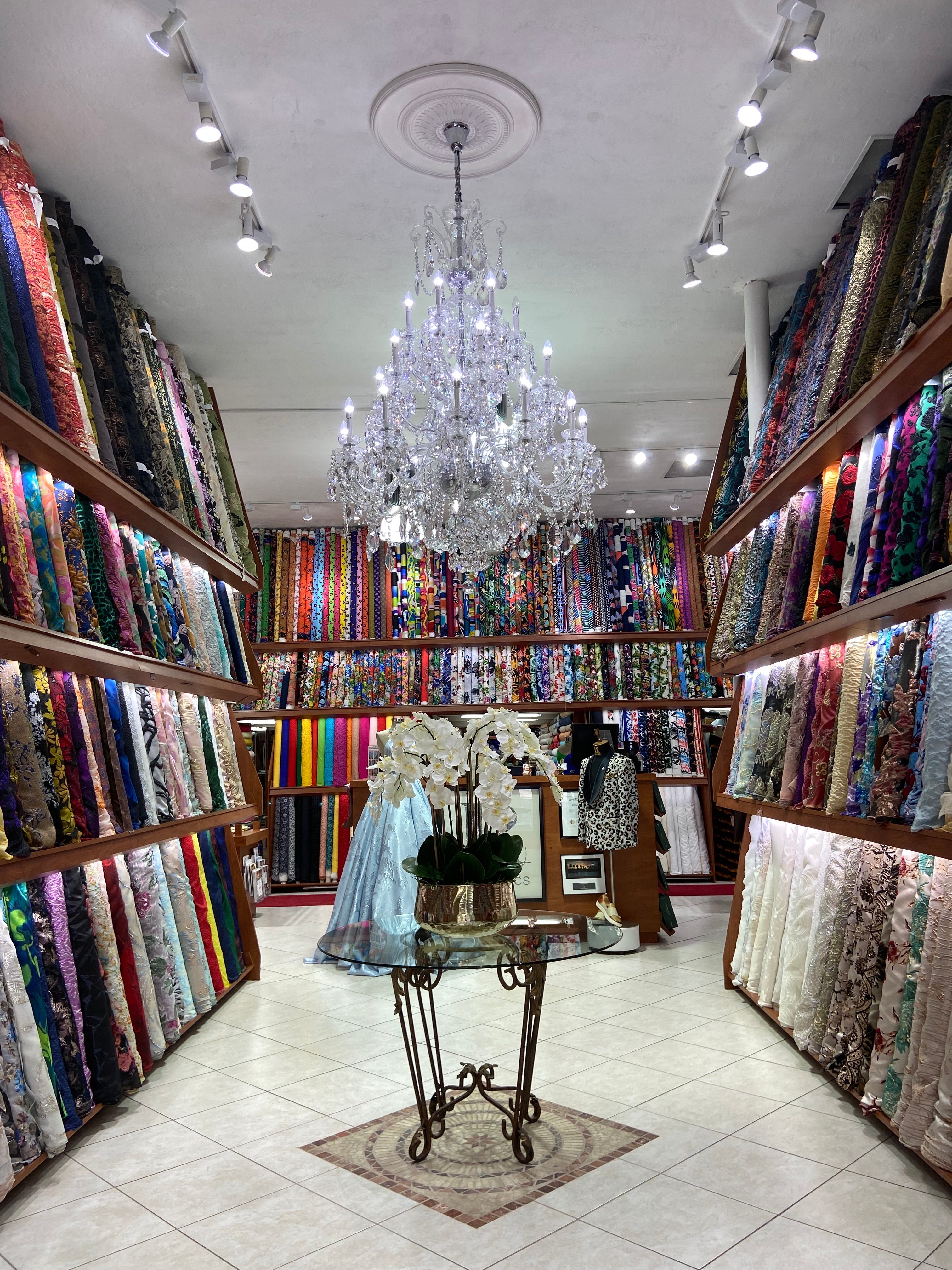 For my first post of 2022 I'm bringing it back to my city and where this journey all started. Miami baby!!!
As a newbie to the sewing game it's a lot easier for me to physically go into a store and touch fabrics that i'm interested in buying as a way to help me get to know them better and understand which fabrics work best for each project.
So i've rounded up my favorite local fabric stores to share with you, and no, Joann's is not on the list. Let's focus on the smaller, mom-and-pop, non-chain locations - okay?!
BORTAN FABRICS
131 NE 54th Street, Miami, FL 33137
Bortan's has to be one of my favorite fabric stores I've come across. Located in Little Haiti this hidden gem has plenty of options in all categories for some of the best pricing I've seen (extremely fair and competitive and way better than Joann's). It's a little bit like a maze in there but it adds to the experience. It just feels… authentic. Plus, they have a great selection of notions, trims and bins and bins of zippers. The absolute BEST part about Bortan's though, is the man that works there. I'm not sure if he owns the place and as a matter of fact I need to ask him his name next time. But every time I'm in there he knows exactly where everything is, he's always kind and when I need help choosing the best lining for my fabric he's down to give me his suggestion. I freakin' love that.
REX FABRICS
825 SW 37th Ave, Miami, FL 33135
Rex fabrics is like the Mecca of fabric stores (and if Mood Fabrics would ever open in Midtown they'd have some competition. What's happening with that?!). Anyway, when you walk into Rex it's like walking into a grand palace where there's fabric floor to ceiling, a chandelier in the entrance and the most organized collection of fabrics you've ever wanted to touch.
Rex has everything you've ever been looking for in terms of types of fabrics, fabrics for upholstery, a good selection of notions an amazing bridal section and bespoke experiences…for a price of course. And while we're on the topic of price, since Rex carries some of the finest fabrics out there, the price is there to match the quality. Don't go to Rex if you're looking for a bargain.
ROSA FABRICS
128 NE First Ave, Miami, FL 33132
Rosa Fabrics is an option we found downtown. Family run with one other location in Atlanta, this store was on the smaller side and had mostly Lycra. I was looking for rib knit when I walked in and was disappointed when they had none. I also didn't love their customer service but it seems like they were a little understaffed so I'll let that one go. I did like that they carried Jersey fabric… like sport jersey's that are kind of rough and mesh? Yea, that (just thinking it could be good to make a custom jersey for a guy one day). They also had a large selection of knock-off designer prints which I actually loved. Another plus to this location is it had a sales bin outside with fabrics going for $1 - I feel like there's a steal in there just waiting to be found.
NUNEZ FABRIC
27 NE First Ave, Miami, FL 33132
Nunez Fabrics is another great option downtown. Run by two brothers who have taken over the family business from their parents, the store's only location has been operating for over 50 years. The store is kind of massive with a lot of options for swim. The staff was helpful, their pricing is decent and I would definitely go back when I'm in the area. This is definitely my winner for downtown fabric stores.
I've posted some photos of each store
on my Instagram
that you can check out. I am so excited to continue to explore Miami and even go more north to try and find the best locally run fabric stores around! I can see a part 2 in the future!
Gianna Pignatello