Swimwear Fabric Guide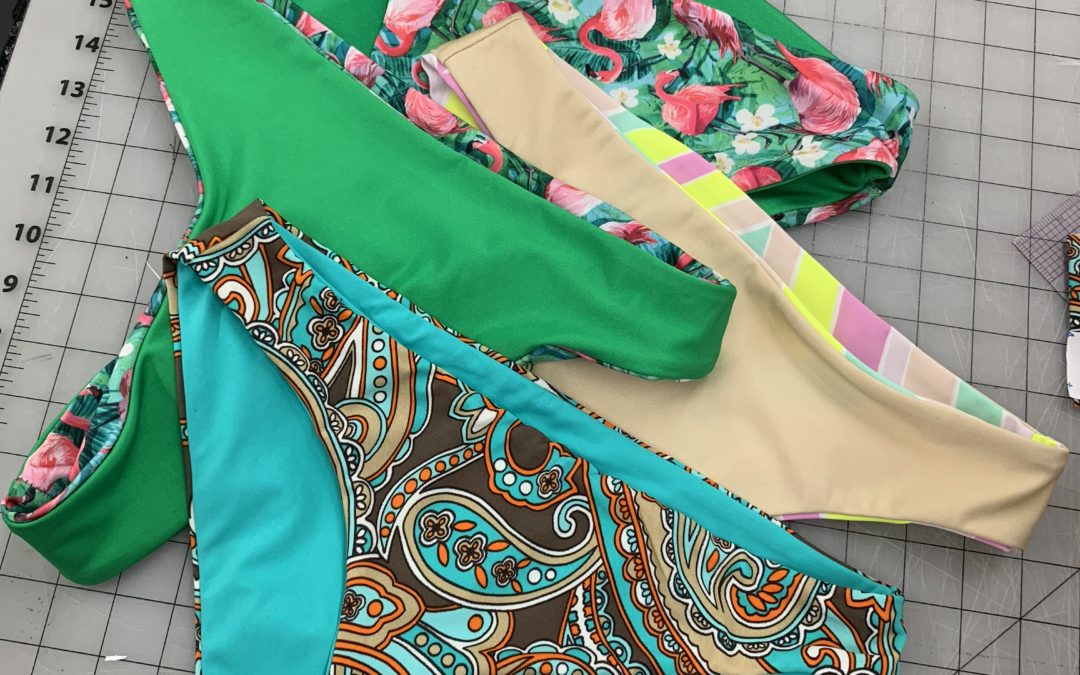 Many factors play into a perfectly fitted swimsuit. Probably our favorite and most important element is the fabric. Swimwear fabric is the most hardworking textile because it needs to perform and hold up to physical and environmental stresses such as stretch, salt, chlorine and sun exposure. It should also act as a a second skin to the body, hugging the curves while moving with it seamlessly. Keep these tips in mind while shopping for your next swimwear project.
The ability of a knit fabric to stretch and return to its original shape is referred to as the fabric's "memory." The stretch factor is the amount of stretch per inch that occurs when the knit is stretched to its maximum length and width.
The recovery factor is the degree to which a knit will return to its original shape after being stretched. Knits with good recovery are those that return to their original length and width when released. If the fabric does not return to its original dimension or close to it, the garment will eventually sag on the body and lose some of its original shape. Not ideal if you want your swimsuit to last and compliment your body.
You should stretch test the material at the store to ensure it moves the way you want. Double-check that the prints and patterns look good while stretched too.
A quality swimsuit should not only look great, it also needs to be made of durable, stretchable and water-resilient fabric. Most suits feature a blend of different fabrics including natural and synthetic materials. The most common fabrics for swimsuits include Nylon, Spandex PBT or Polybutylene Terephthalate, and Polyester. Before deciding on your fabric, it's important to consider the pros and cons of their characteristics.
Most swimsuits in the market today contain nylon. This lightweight manufactured fiber offers a lot of stretch and hearty moisture-wicking capability, making for speedy drying times. On the flip side, nylon swimwear may fray or fade after prolonged sun exposure. Nylon is also called polyimide.
Lends itself to a great deal of modern swimwear, though it's typically not the sole fabric. Spandex is usually blended with other fabrics to increases the swimwear's stretchiness.  The more spandex in the suit, the more shape-hugging it is. Spandex slims the figure, but chlorine takes a toll on its elasticity over time. Lycra is the brand name for Spandex (Like Tencel is to lyocell).
Either blended with Lycra or by itself, polyester is the leading fabric for competitive swimwear because it holds its color and is resistant to chlorine and UV rays. Polyester is "print-friendly," unlike nylon, which means it can absorb dye and print with rich and crisp results.
PBT or Polybutylene Terephthalate
A very high-end fabric from the polyester family. It's best for fitness and competition swimsuits and for outdoor swimming. It is chlorine and heat resistant. The fabric has great stretch and elasticity and is quick-drying because of its low water absorbency.
Sustainability
The swimwear industry has traditionally used fabrics that are harsh on the environment. Thankfully, more eco-friendly fabric options are becoming available because of growing consumer awareness and global demand for sustainability. Below are a few of the best low-impact fabric options that give us hope for the future of sustainable swimwear fabric. We will continue to add on to the list as more options become available.
One of the best and most popular fabric alternatives is Econyl. It is regenerated nylon from pre and post-consumer products. ECONYL® publicizes its process in 4 steps:
Rescue – Finding waste like fishing nets, fabric scraps, carpet flooring and industrial plastic from landfills and oceans around the world.

Regenerate – Regeneration and purification process. Recycled back to original purity, exactly like virgin, or new, nylon.

Remake – The nylon is processed into the swimwear yarn.

Reimagine – The regenerated yarn is used in new swimwear products until they are no longer useful and can go back into step one: Rescue.
Repreve makes theirs from recycled plastic bottles. Major brands are starting to incorporate Reprev into their collections including Mara Hoffman, Patagonia, Quicksilver, Roxy, Vitamin A, and many more.
Castor beans are emerging as a new source for innovative fabric technology. It is a totally renewable resource that does not require high amounts of water nor takes away arable land for food uses. It does not wrinkle, is odor-resistant, and is incredibly breathable and lightweight. 
It is naturally hydrophobic and fast-drying since it's made from castor oil (oil and water don't mix) making it a perfect candidate for swimwear! The 4-way stretch makes this fabric especially stretchy, like a second skin around your body.  One company that manufactures this innovative fabric is called Evo® from Fulgar.
2 comments